I have been wanting to go to the "Secret City" since we moved to this area. Finally, I decided to just make a day of it and take a home school field trip to the American Museum of Science and Energy (AMSE) in Oak Ridge, Tennessee (aka. the Secret City).
I talked my sister into meeting me with her boys. Although she doesn't home school, her oldest son gets a double (or maybe triple) dose of educational activities (and loves it).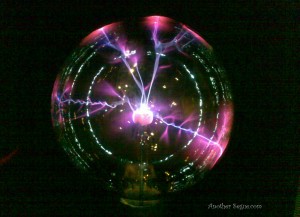 It was fantastic! The staff was beyond great!
We arrived just as the museum opened. As we were the first visitors of the day, they had our admission cost totaled before we got to the counter. Although she had to redo it, my daughter and I got in free with our U.S. Space and Rocket Center membership 🙂
The very nice, helpful woman at the information desk pointed out things that the kids might be interested in. She informed us that the demonstration show for the Van de Graaff generator was not scheduled until after we would probably want to leave, so maybe they move it up some. She was right. It ended up being an hour earlier than we were told originally.
The staff was worried about the kids not finding too much that they would really enjoy because they were so young, but we only made it halfway through the exhibits before the need to leave for lunch (and a nap for the youngest).
They loved the hands-on displays and the Van de Graff demonstration which included participation.
Before we left, the staff recommended a children's museum just a few blocks away. They even gave us a map with directions. Although we did not have time that day, it is definitely on our list of things to do in the future.
We also plan to go back to the AMSE  so we can finish touring the museum and learn more about the Secret City from the great displays on its history. (I saw them from across the room).
As far as the 8, 5, and 2 year-old's being too young to enjoy it, I think they would have to disagree. Besides, my sister and I have our parents' philosophies that include:
Expect more of children and they will often still go beyond your expectations.
Expect to have fun and you probably will; expect to not have fun and you probably will.
Even if you don't enjoy it, you can tolerate it and maybe even get something out of it.
If your thinking about going, you should know:
The admission price to the museum is very reasonable.
Despite being a Secret City for years, Oak Ridge is an easy drive off of I-75 from both above and below Knoxville, TN.
Expect to spend a couple of hours.
They open at 9 am.
You should check their website to make sure the opening and closing times have not changed.