As a result of my writing a food blog, my daughter is now making up her own recipes and wanting to take pictures of all of our food. These are unintended consequences, but I am trying to use them to encourage her, teach her, and have fun with her.
She wants to cook independently, thus we have made some basic simple things like Pita Pizzas.
They are simply wheat pitas, pizza sauce, shredded cheese, and mini pepperonis.
We just bake them at 400 degrees F until the cheese is nicely melted.
She can make them all on her own except for getting them in and out of the oven. She loves to make the other standards like peanut butter and jelly sandwiches, and "ants on a log" (peanut butter and raisins on celery). All of these dishes give her more of a sense of independence.
She also has been making up her own recipes and taking pictures of them. This is one that she created and photographed. She calls it "Mixed Fruit Salad."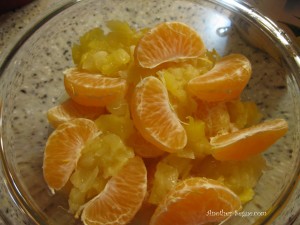 It is clementines and crushed pineapple. She added a few maraschino cherries later, but I think that was her dad's idea.
Yes, we ate it and her other creations (they are almost always fruit dishes).
I do wish she would go back to using just her Fisher Price camera to take photos, but I doubt that is going to happen. I keep finding all sorts of pictures on my camera that she has taken. Sometimes they are of art projects that she has made without me even knowing.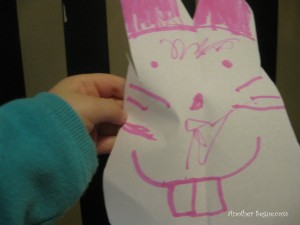 I am afraid she is going to ask for her own blog as soon as she learns to read and write better.